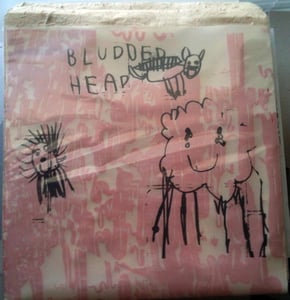 $

15.00
Artwork by young Gillian, hand made jackets by Nevada Hill.
Entirely analog from the recording to the mastering. There was no digital conversion.
The first 100 have elephant dung sleeves with a 2 color screen print.
Edition of 300
1.The Bludded Head 12:34
2. The Bleeding Cloud 12:50
This album was recorded by Matthew Barnhart at Echo Labs directly onto 2" tape, and was then mastered using all analog equipment in Dallas @ A&R records onto 12" vinyl at 45rpm.
Nevada Hill- vocals and guitar
Darcy Neal - electric cello
Mike Forbes - drums