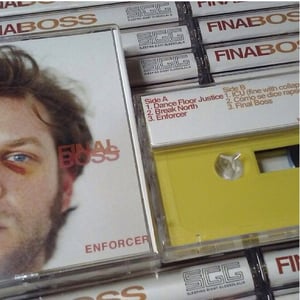 $

6.00
Final Boss "Enforcer" limited edition cassette(SGG-037).
Critical bunkerbeat-down from this NYC trio. Recorded utilizing sensory depravation and other unorthodox techniques. Primitive/advanced electronics wielded in conjunction with primitive/advanced thought processes.
Nods to 80s hardcore(if only in spirit) may be misleading when coupled with the purely electronic approach on these recordings but please allow yourself to break north, listener.
Professionally dubbed on yellow tapes.
Never sleep a-gan.