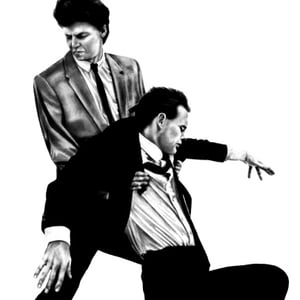 $

20.00
*Note: This version is the initial vinyl reissue preceded only by the original 99 Records 1981 pressing(which sells for outrageous amounts) released in 2010 by Final Boss/Action Beat, etc member Don Xero on his Fortissimo label and thought to be out of print. We are pleased to be able to present this milestone recording to you at a fair price.
As Superior Viaduct stated for their 2014 edition:
"Glenn Branca's first full-length album The Ascension is a colossal achievement. After touring much of 1980 with an all-star band featuring four guitarists (Branca, fellow composers Ned Sublette and David Rosenbloom, and future Sonic Youth member Lee Ranaldo) along with Jeffrey Glenn on bass and Stephan Wischerth on drums, Branca took his war-torn group into a studio in Hell's Kitchen to record five incendiary compositions. Originally released in the summer of 1981, The Ascension effectively tears down the genre-ghettos between 20th century avant-garde and ecstatic rock 'n' roll.
On "The Spectacular Commodity," chiming, shimmering tones unfold into sinister drone-territory à la Tony Conrad, while abrasive guitars and repetitive beats retain the raw primitivism of No Wave. The title track attains a densely packed, larger-than-life sound and (as author Marc Masters says best) "never stops climbing skyward."
With artist Robert Longo's stark front cover that depicts Branca battling an unidentified man, The Ascension is a must-have record not only for fans of early Swans and Sonic Youth, but also of Steve Reich or Slint's Tweez."
Track Listing:
Lesson No. 2
The Spectacular Commodity
Structure
Lightfield (In Consonance)
The Ascension
As Fortissimo(the label behind this original reissue)put it:
"Glenn Branca's The Ascension was one of those rare records that managed to change things. Maybe not right away, but as time has passed, its importance and influence has become more and more clear. Branca's idea was to marry the repetition and process of minimalism with the energy and aesthetic of rock music. The Ascension's predecessor Lesson No. 1 showed this in a simple and refined manner but on the Ascension, everything was turned up to 11.
Glenn had put together a small group to tour in 1980. The "Ascension band" included Ned Sublette, David Rosenbloom, Branca and future Sonic Youth-er Lee Ranaldo on guitar, Jeffrey Glenn on bass and Stephan Wischerth on drums. By the time they recorded in 1981 they must have been a hell of a band. Recorded and mixed at the Power Station and mastered by Howie Weinberg, the Ascension is a truly fantastic sounding record, and is one of the benchmarks for total guitar awesome-ness. Chiming, ringing, chugging guitar bliss. In his liner notes to Acute's CD reissue, Ranaldo complains however that the true sound of the Ascension could only be heard in a live room, where all the tonalities could crash against each other in the open air. We'll have to take his word for it and settle for the record they released though, something nobody's complained about yet! The Ascension came out in 1981 on the seminal label 99, where it was greeted with wide critical acclaim.
While looking at all the press that followed it's release, one cannot avoid the debate, is The Ascension a rock band performing classical pieces, or an experimental ensemble performing rock music? Glenn's prior work in The Static and the Theoretical Girls represented some of the most aggressively avant-rock sounds of the New Wave era, while his work in the two decades since has taken on a decidedly "classical" approach. However, for a brief moment, Branca and his band were able to transcend such classifications as High Art vs. Pop Culture, Classical Music vs. Rock and Roll, and release a record that, amongst all the debate, at least had all the critics agreeing on one thing: The Ascension is truly awesome. The Ascension features 5 compositions, none a moment too long or too short , none too leftfield to be inaccessible, none so mainstream to be boring. Just 40 minutes of sheer guitar bliss."