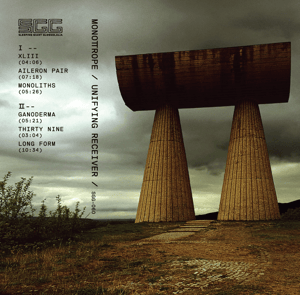 $

7.00
Limited cassette edition of the New Atlantis LP.
1.
XLIII
2.
Aileron Pair
3.
Monoliths
4.
Ganoderma
5.
Thirty Nine
6.
Long Form
Monotrope exists in a realm of instrumental rock that is progressive in its musicality but punk at its core. Guitars intertwine in dissonant, polyrhythmic webs, while the rhythm section forges a propulsive, unrelenting path. Abstract yet intricate, Unifying Receiver rocks hard from the bird's eye view; its six songs are emotive, guitar-driven works of struggle and catharsis, travel and arrival, tension and release.
The title Unifying Receiver conveys a sense of monolithic potential and hope, despite things obviously not feeling all that hopeful lately... It resonates as a messianic entity in receivership of the sum total of the world's filth and misery. By facilitating in the processing of the world's most base, darkest elements, it effectively alleviates and transcends, bringing the world together on commonalities instead of points of division... Which is effectively what people do in some capacity, every day. Seeing and experiencing various degrees of beauty and misery, processing it all, and hopefully finding ways to weave tighter bonds with others and ourselves in the process.
Monotrope is dispersed wide across the USA, representing California, Texas, Ohio, and Maryland. Guitarist Ed Ricart is known from bands such as Hyrrokkin and Matta Gaga. Bassist Matthew Taylor is a member of Bellini, and worked for years as art director for Touch & Go Records, designing iconic album layouts for the label's revered roster of bands. Ricart and Taylor are flanked by guitarist Dan Wilson (ex-Hurl) and drummer Joe Barker (Unraze, Tigon).
Own the record November 10, 2017
RIYL: Chavez, Slint, Ali Farka Toure, U Srinivas, Rodan, Don Caballero
Monotrope is:
Joe Barker - Drums
Matthew Taylor - Bass
Dan Wilson - Guitars
Edward Ricart - Guitars
Engineered by:
Bill Skibbe @ Key Club Studios. Benton Harbor MI
Edward Ricart @ Ambition Sound, Yellow Springs OH
Additional Engineering by:
Britt Robisheaux @ Cloudland Recording, Fort Worth TX
Matthew Taylor @ Garage Mahal, Dallas TX
Mixed by:
Tim Green @ Louder Studios, Grass Valley CA
Mastered by:
Carl Saff @ Saff Mastering, Chicago IL
Art Direction & Design by:
The Designers Republic (Aphex Twin, Autechre, Pop Will Eat Itself, Pulp)