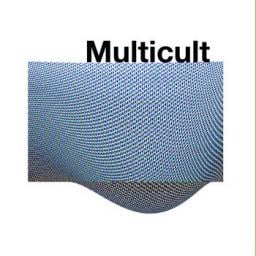 $

5.00
*limited quantities on splattered, colored vinyl*
To hold you over until the next Multicult LP is unveiled this year on SGG, our friends at Reptilian Records, the label responsible for classic releases by Vaz, Negative Approach, and Longmont Potion Castle to name a few, give us two brand new cuts of rhythm-heavy bunker-pummel from our favorite Baltimore boy-girl power-trio.
These new recordings, along with a slew of devastating live sets on a recently completed tour, have cranked the anticipation levels way past eleven for the next Multicult full-length. Absolutely some of their finest material to date is found on this 7" slab.
Comes with download card for both tracks and sits comfortably in the Vaz, Shit & Shine, Brainbombs, Chrome, Kavinsky, Kraftwerk, Unsane, Umberto, Boards of Canada, Dead C, Godflesh section of yr record collection. Y'know, that one.