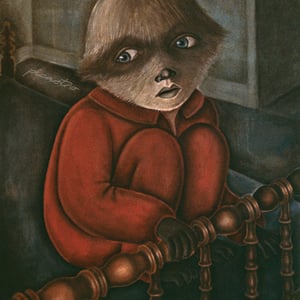 $

20.00
Purchase here:
https://sleepinggiantglossolalia.bandcamp.com/album/picastro-exit
We are very happy to announce the release of the new album by Picastro, "Exit", due out in June on Sleeping Giant Glossolalia.
When asked about the title, and the undeniable weight that the album itself carries, founding member and bandleader Liz Hysen had this to say:
"For the last little while I have been trying to remove myself from the creative process to see how I would feel or if the perception of the origin of the music would change with it. So, for example, I started using themes, used male pronouns, etc and this record I didn't want to sing on at all to see how that would affect my version of the story and also see how people would react to it.
On top of that my I had to deal with my husband going through addiction treatment, I had to go through counseling and that whole thing was a fucking roller coaster. I don't wish it on anyone but we got lucky. I began to write the record about addiction in its many forms, mid life crisis, the shittiness of being an adult and realizing how bad it was and I wanted out , hence "Exit".
It was like a crossroads for me creatively and as a human being. It's pretty grim but there is no way other people aren't dealing with that stuff."
and from an advance review of the album:
"Always one for gender subversion, the Toronto songwriter invites a cast of guests to sing her songs, resulting in some of the project's most deviously playful music ever.
In the late 1990s, Toronto musician Liz Hysen began to use the alias Picastro to distance herself from assumptions about singing-and-songwriting women at the dawn of the Lilith Fair era. Hysen's hushed, spectral songs tapped more into the stewing undercurrents of slowcore and post-rock than traditional folk, anyway. By the time she released Picastro's first proper album, 2002's Red Your Blues, the project had become a full band, one whose revolving cast of local mavericks (including, for a spell, Owen Pallett) reflected her music's mercurial quality. Even as her tensely strummed missives acquired a more expansive sweep on two mid-2000s releases for Polyvinyl, Hysen's voice remained at the core of Picastro, the resolute center of increasingly calamitous environs.
Hysen has long resisted autobiographical interpretations of her writing, and she's often sung from a male perspective to emphasize that these songs are stories, not confessionals. On the appropriately titled Exit, Picastro's first album in five years, she largely steps away from the microphone to let others do the singing, farming out most of the album's eight tracks to a predominantly male cast of guest singers culled from her Toronto peer group and beyond. And instead of simply applying their voices to Hysen's songs, the singers push their personalities to eccentric extremes, driving Picastro toward their most tumultuous, unpredictable, and deviously playful music to date.
Hysen, for instance, has Great Lake Swimmers leader Tony Dekker perform his best imitation of her on the opening "Mirror Age," his honeyed voice proving the subtlest salve to lyrics that blur the line between relationships and addiction: "I don't feel much of anything/All because of you." But Hysen's acoustic finger-picks ultimately rally Matthew Ramolo's sunbeam synths, Nick Storring's trembling cello, and Germaine Liu's clattering percussion through a series of turbulent ascensions and peaceful plateaus toward an ecstatic rekindling of the senses. Unlike most post-rock outfits, Picastro aren't interested in working themselves up into volcanic crescendos; instead, they conjure those early moments of a windstorm, where the dead leaves and street debris start to coalesce into circular patterns, though everything could drift off at any moment.
These songs move slowly, often following a similar path from calm to chaos. Still, each singer makes the songs their own, like a parade of guests taking turns house-sitting the same abode and rearranging the furniture to their liking. "From Come the Speak" oozes gothic dread, with Irish raconteur Adrian Crowley's sinister moan suggesting the grimmest of reapers. On "Blue Neck," Xiu Xiu founder Jamie Stewart's muffled, trembling delivery embodies the anxious nature of a song that starts out like an acoustic doom dirge before getting swept up in a torrent of cosmic klezmer. Even the album's quietest track judders with mischief and unrest: The album's only female guest, Alexandra MacKenzie (aka electro-pop agitator Petra Glynt), absolutely devours the early, Thurston Moore-sung Sonic Youth standard "(She's in a) Bad Mood." Swapping the guitar-charged throb for a piano-based dronescape, MacKenzie displaces Moore's icy cool with a haunted theatricality, reframing his ominous diagnosis as an apocalyptic clarion call.
But Exit's unsettled essence doesn't always serve such a dark vision. On the closing "This Be My Fortune," Hysen teams with Chris Cummings, the art-pop auteur who calls himself Marker Starling (fka Mantler), for a track that qualifies as a romantic duet by Picastro standards. Granted, it's the sort of romantic duet where they seal their pact by harmoniously singing the chorus of the Stooges' "I Wanna Be Your Dog" as if they were serenading each other with "Islands in the Stream" at a karaoke bar. But a synth-flushed swirl dramatically uproots the song like a tornado swallowing a home, a moment that feels as liberating as it is arresting. Where Picastro was once a means for Hysen to sidestep stereotypes, with Exit, she's now successfully redefined what it means to be Picastro at all."
- Stuart Berman, Pitchfork
releases June 14, 2019
Mirror Age
Vocals – Tony Dekker
From Come The Speak
Vocals – Adrian Crowley
Blue Neck
Vocals – Jamie Stewart
I Spy
Backing Vocals – Nick Storring
Backing Vocals, Electronics – Matthew Ramolo
Vocals – Tony Dekker
She's In a Bad Mood
Percussion, Guitar, Noises – Matthew Ramolo
Piano – Liz Hysen
Piano, Reeds – Germaine Liu
Vocals – Alexandra Mackenzie
A Trench
Flute – Germaine Liu
Synthesizer – Matthew Ramolo
Vocals – Caleb Mulkerin
To Know
Vocals – Liz Hysen
Vocals, Mandola, Percussion – Nick Storring
This Be My Fortune
Synthesizer, Backing Vocals – Matthew Ramolo
Vocals – Christopher Cummings
Picastro "Exit"
Acoustic Guitar, Lyrics By, Backing Vocals – Liz Hysen
Artwork By – Temple Bates
Cello – Nick Storring
Drums – Germaine Liu
Mastered By – James Plotkin
Mixed By – Matthew Ramolo (tracks: A2, A4, B1, B4), Nick Storring (tracks: A1, A3, B2, B3)
Recorded By – Joe Dodaro (tracks: A1-B4), Matthew Ramolo (tracks: A1-B4), Nick Storring (tracks: A1-B4)
Synthesizer – Matthew Ramolo
Thanks to Canada Council For The Arts and Ontario Council For The Arts
SGG-063