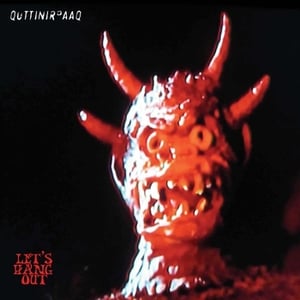 $

15.00
From the Rural Isolation Project comes the 2nd proper full-length from Quttinirpaaq, about which Aquarius had this to say:
"We made the debut lp No Visitors from these Texas drugged out psych/doom/noise/kraut/sludge weirdos a Record Of The Week back June, and well, since these tracks were culled from the very same recording session that produced that record, you could very well consider this a sort of Record Of The Week part two, and really if you dug No Visitors, this is more of the same, blown out psychedelic heaviness, that sounds like a mashup up of the Butthole Surfers, Hawkwind and Shit And Shine, all filtered though AmRep nineties noiserock and Texas knuckle draggers Rusted Shut. Which if you're anything like us, is about all you need to know. But if you're new to Quttinirpaaq, or just need a reminder, give a listen to the first couple samples below. The brief sort-of intro, the sweetly titled "Diary Of A Pig Keeper's Wife", is all detuned trudge, crumbling slo-mo riffage, death march drums, weird, slowed down chant like vocals, this is some sort of wasted, psychedelic ultra doom, but it's on "Chinese Hercules" that Quttinirpaaq really get to flex their musical muscles, locking almost immediately into some seriously tranced out, heavy hypno-rock riffage, that weds super distorted drum pound to churning looped riffage, garbled vox and swirls of noise and effects into some heavy, space, psychedelic noise rock that takes everything we love about White Hills, The Heads and all the rest, cranks it WAY up, and drags it through the filth, resulting in some seriously next level kraut-sludge space-psych heaviness that KILLS.
And while it doesn't necessarily get better from there (not sure how it could really), it stays pretty epic and psychedelic, heavy and warped, tripped our and trancey, most of the tracks some weird sort of hybridized psychedelic krautrock and noise rock crush, the band locked into endless grooves that roil and churn mesmerically, while all around sounds swoop and swirl, streaks of feedback, blasts of FX, constantly shifting textures, buried melodies, all blurred and smeared into heaving, noisy, heavy psych weirdness.
Some of the tracks here get downright out there, some surprisingly beautiful, still noisy, but infused with surprising melodies, and crafted with a delicate touch, while others are just pure skull caving crush, and still others are almost electronic sounding, seemingly dabbling in the same warped outsider electronics as Shit And Shine.
Needless to say this RULES. Everyone who bought and loved No Visitors, is gonna want this too. And if you've yet to check these guys out, Let's Hang Out might just be your new favorite heavy / noise / psych / space jam. You have been warned.
Pressed on 180 gram vinyl, clear with 'blood red spray'. Comes with a full color insert, and it's LIMITED TO 300 COPIES!!