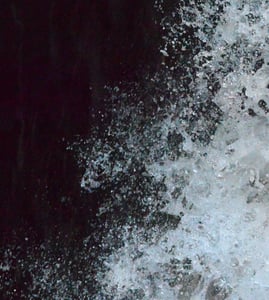 $

15.00
First offering from the Rural Isolation Project.
Julian Cope had this to say:
"Finally, Vinyl of the Month must surely go to that bunch of Texan ne'er-do-wells Quttinirpaaq, whose blood-red vinyl LP NO VISITORS dances indelicately and unconsciously between inchoate and stumbling no chance Geetar (pe-)riffery one moment and sub-sub-Suicide ROIR cassette-level lo-fi instraludes the next; between Monoshock v. Working Man Noise Unit microphone feedback wars, and/or interspersed with random cut-ups of Kramer's Shockabilly rehearsals. You wanna Spahn Ranch hoedown by the wind and its most rock'n'roll mates? You goddit? You need need need more Liquorball but their release schedule stinks? Come to these guys… the only show in town, currently. Released on the immaculately titled Rural Isolation Projects label, this is one of the best 45rpm LPs of recent months. Come to think of it, it's also one of the best 33rpm LPs of recent months! Dammit kiddies, that useful! That fucking useful!"
Aquarius offers this praise:
"We got our first taste of these Texas weirdos on a split with psychedelic drone-drug-doom heavies Bong, and the virtually unpronounceable Quttinirpaaq were definitely a good match, countering Bong's longform sonic explorations with their own heavy psych / caustic noise / kraut-sludge pummel. What we didn't know at the time, was that Quttinirpaaq includes among its membership, members of former Record Of The Weekers Rubble as well as Shit And Shine offshoot outfit Same Sac! Which totally makes sense, as No Visitors is a serious blast of drug addled Southern psych, the opening 90 second blast a crumbling almost industrial sounding dirge that sounds like Brainbombs at 16rpm, filtered through some seriously Butthole Surfers style drugginess. Which if you're anything like us, had us sold pretty much right away. And while not all of No Visitors is nearly so noisy, it is all pretty goddamn great. From pulsing low slung krautrock style murk, like on "Malvert", which drapes the motorik mesmer with wild squalls of caustic guitarnoise, and creepy hissy whispery vocals, and what might be some detuned pianos, to slo-mo black noise doom-dirge crumble, like on "Ex-Batts" which literally sounds like the tape has been slowed down, so all the instruments rumble and crumble and moan, everything wrapped in sheets of wild squealing feedback, and near Merzbowian noise, all the while lumbering and lurching like some lost Buttholes jam played back on a broken boombox.
These guys exist somewhere between skull crushing noise rock, atmospheric noise drenched Japanese style psych and primitive caveman dirgery, the comparisons we've read mention Brainbombs, Skullflower and Les Rallizes Denudes, but we'd probably also include Drunkdriver, Twin Stumps, Violent Students, Rusted Shut, Burmese, Liquorball, you can probably figure out what sort of glorious, druggy noisiness we're talking about. Super heavy, ultra psychedelic, stumbling and crushing, tranced out and woozily hypnotic, massive slabs of churning low end, beneath crunchy, jagged, distorto guitars, wild streaks of feedback everywhere, the vocals yelped and yowled, sometimes bellowed, here and there delivered in a deeply dramatic, and sort of creepy croon, the sound constantly on the verge of collapse, but always seeming to eventually coalesce into some seriously demented, kraut-sludge heaviness that will have most aQ customers losing their shit big time. And hell, there's even some faux techno, check out the gristly pulsating "Golden Needles", that sounds like Shit And Shine on Kompakt. Fuck yeah!
LIMITED TO 300 COPIES!!"