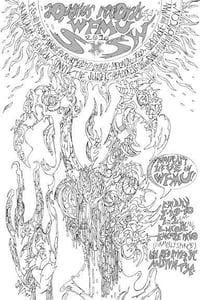 $

15.00
Hand screened, two color(one is dark green on light green, the other is blood red on grey), featuring original art by the one and only Savage Pencil, to commemorate a bill which included SGG bands and friends and was co-hosted by the best radio station and record store on Earth. If you were at the show, or listened to the live broadcast at home, or just need this mother in a frame on your wall, this one's for you.
An intricate mess of tendrils and avian heads and god know what else, featuring the lineup of:
Shit and Shine
Epileptinomicon
Home Blitz
Todd
Drunkdriver
True Widow
Pierced Arrows
Liturgy
Dengue Fever
Speedwolf
Iron Man
Moon Duo
Sonny & The Sunsets
and more!
Criminally limited..ships in a tube..