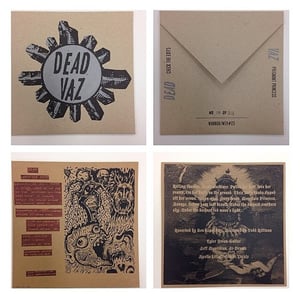 $

6.00
From Wantage/We Empty Rooms:
At some point in 2012 the Australian band Dead hosted New York group Vaz for a tour of their continent. The tour was nice where the swimming and tunes were concerned. Commercially it failed. Vaz then toured Malaysia and Indonesia, had amazing curry and returned to NYC, aka HELL. This 7" is the commemorative oversized-foam-hand-with-index-finger-pointed-skyward ... if you follow, of those tours. It offers up two of our favorite bands of the past 5 or so years, in all their desperate, excellent glory.
Dead, "like a vegan, southern hemisphere Motörhead"(but more crawling and pleasantly bitter, to these ears), and Vaz, who offer up Cold War paranoiac space rock. Desperate, fast, deftly-played and riffy without pandering to anything that could be called "stoner."
Notes:
First edition. 313 total pressed.
Letter pressed covers.
Hand-numbered
The first 100 are limited to mailorder only and are printed on craft colored covers, and include an ultra-limited Dead and We Empty Rooms beer coaster.