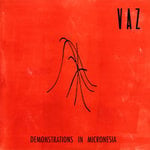 $

15.00
Don't let the obtuse island-music title throw you off. This is one of the world's finest examples of genre perfection in existence. Vaz, when this was recorded (for Load/X-Mist and Thin the Herd in 1999) were a two-piece with original members of Minneapolis goliaths, Hammerhead. Paul Erickson and Jeff Mooridian Jr. wrote the most focused batch of cold, futuristic noise jams since we-don't-know-when. Nothing hopeful, melodic, or...anything.. but motorik and ever-forward Fargo-Moorehead desolation rock, done impeccably on Demonstrations.
This is back in print. But for how long? Third, very limited pressing of 100 copies with silkscreened heavy covers. Clear red vinyl.
Courtesy of the fine folks at Wantage USA and X-Mist.