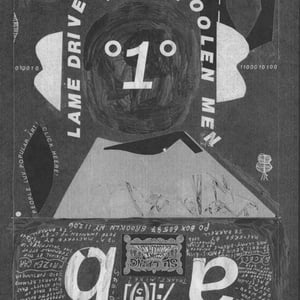 $

6.00
SGG-028
SGG is thrilled as hell to announce the release of this WM/LD-shared slab of vinyl at the tail end of the bands' 2nd tour together.
We couldn't be happier with the material, as Lames offer up both old and new cuts, the recent live staple "Headhunting" and the classic "Excess", which has been lodged in our head for years now.
Woolen Men in turn give us "Deaf Americans"(mastered by Pete Swanson), probably our favorite song on a long list of favorite songs by the PDX DIY basement blasters. Also on deck from WM is an excellent rendition of "Frozen Car", originally performed by heroes of the New Zealand underground, The Terminals.
"Lame Drivers and The Woolen Men put rock music back in the hands of the feeble hopefuls, the shrinking violets and the dreamers. The posturing is gone once again; vulnerable, special human beings who have found solace and encouragement in music are found underneath. Seek out these unassuming-looking recordings at any cost." -
Doug Mosurock
This extended-playing platter matters and is a great introduction(what!? where you been??) to both the Home Blitz-related, WFMU-saturated mutant power-pop of Lame Drivers and the modern day pride of PNW punk, The Woolen Men.